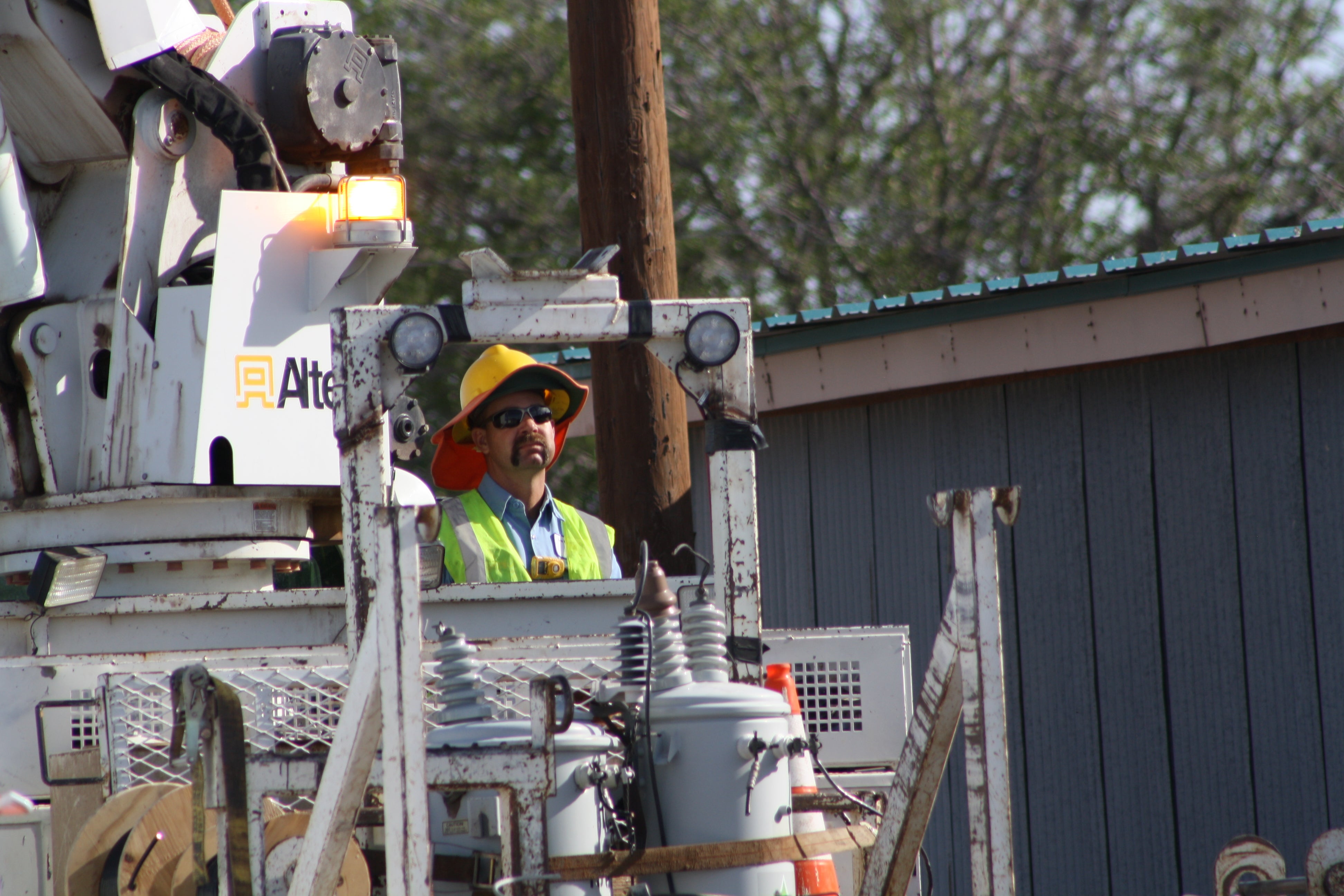 Career Opportunities
Lea County Electric Cooperative, located in Lovington, New Mexico, serves portions of three counties in New Mexico and portions of three counties in Texas including three residential towns, and the oilfield and farm/ranch communities. The Cooperative has 4,275 miles of lines (338 miles of transmission) with 16,180 meters.
Lea County Electric Cooperative, Inc. (LCEC) was incorporated in 1949. Headquartered in Lovington, New Mexico, the Cooperative energizes over 15,000 meters in areas of Southeastern New Mexico andWest Texas in portions of six (6) counties: Chaves, Eddy and Lea Counties in New Mexico and Cochran, Gaines and Yoakum counties in Texas. We have nine (9) dedicated trustees who along with management and employees have led LCEC through changes and growth. LCEC is a member of Western Farmer's Electric Cooperative, a generation and transmission cooperative, located in Anadarko, Oklahoma. Primary load is oilfield, commercial, irrigation and residential.
Working for Lea County Electric Cooperative is a great opportunity to serve your community and to develop a career.
We are a private utility owned by the members/consumers we serve. While deeply rooted in traditional values, the Cooperative is constantly striving to meet the growing needs of our members/consumers through innovative technology and a service-oriented staff. We have a special appreciation for people willing to commit to teamwork and quality service.
The Cooperative offers competitive pay, benefits and provides great educational development opportunities. As an equal opportunity employer, we aim to provide a work environment for employees that fosters fairness, equity, and respect for social and cultural diversity and that is free from unlawful discrimination and harassment Click here to view our Statement of Nondiscrimination.
Responsibilities:
Install, test, repair and maintain meters and to be responsible for the metering instruments, material, meter inventory and record keeping.
Install, maintain and repair all AMR hardware including meter modules and substation hardware.
Provide and install special application meters to meet engineering specifications.
Maintain inventory of meters, meter parts, instrument transformers and associated equipment.
Requirements include:
High School Diploma. Incumbent must achieve certification through apprentice training provided by the Cooperative.
Provide efficient construction, operation and maintenance of all types of conductors, structures and equipment used in the transmission and distribution systems.
Perform routine line work, both underground and overhead construction, line maintenance and electrical service.
Work on energized lines without supervision.
Understand all circuits used on the system and the related safety requirements.
Read and accurately interpreting maps, specifications, staking sheets, and complex diagrams.
Install and maintaining large power transformer banks.
Participate in scheduled on-call time.
Working knowledge of the hazards that exist in the form of falls, electric shock, electric flash, falling objects, and traffic.
Knowledge of the Rural Utilities Service Specifications and Guidelines, substations, switching devices, transformer banks, oil circuit breakers, voltage regulators, line fuses, line currents, and voltage levels. Adheres to bucket weight limits and participates in bucket truck and pole-top rescue training.
Requirements:
Satisfactory completion of an approved 4 year power line apprenticeship education and training program.
Must possess a valid NM/TX Class 'A' Commercial Driver's Licenses
Develop, install and maintain GIS/CAD mapping system.
Provide maintenance and repair for Cooperative's fleet of vehicles.  Fabricate and modify equipment for vehicles as required.  
ACCOUNTING ASSISTANT

Department:          Accounting
Reports to:            Supervisor of Accounting Services
Supervises:           None
Directs:                  None
FLSA status:         Non-exempt
Last reviewed:      September 2019
NCS Code:           17O

OBJECTIVE:
To perform a wide variety of assigned accounting tasks in support of departmental efforts to
fulfill the cooperative's financial goals and to ensure accuracy, timeliness and confidentiality.
Emphasis will be on accounts payable and on keeping records pertaining to the cooperative's
transportation fleet.

RESPONSIBILITIES AND AUTHORITIES:
1. Process vendor invoices, verifying receipt/price extension and assigning correct account
number for department or task requiring the purchased items.
2. Generate disbursement for accounts payable payments and all necessary reports,
maintaining journals of same. Mail general fund checks. Detect and correct pricing
errors.
3. Maintain vendor and purchase order vault in a confidential manner. Attach copy of
corresponding invoice and file in proper vendor file.
4. Maintain property management and control system on material inventory purchases by
recording detailed information from invoices.
5. If needed, produce copy of invoices charged to specific general ledger accounts and
forward to appropriate personnel for coding.
6. Process transportation tickets, if needed.
7. Process all registration, licensing, special fuel and heavy vehicle documents and permits
for complete fleet. Maintain transportation files.
8. Keep file current on vehicles. Delete any not in use and add information on any new
vehicle purchases.
9. Verify and correct errors on annual vehicle insurance policy. Allocate premium and
charge each unit accordingly.
10. Inventory and maintain departmental office supplies; inventory and maintain select
supplies for entire office and restock when required.
11. Ensure that each item charged to vehicle expense is charged to that particular vehicle on
all relevant reports – transportation, mileage, etc.
12. Perform other tasks as assigned or requested.
13. Work closely with MVD regarding fleet permits, registration and all regulatory
requirements.

EDUCATION:
High school or equivalent required. Associates and one year of experience preferred.
EXPERIENCE:
A minimum of two years of prior experience in an accounting environment in which
incumbent can obtain knowledge and skills necessary to this position.
JOB KNOWLEDGE:
The fully competent incumbent must possess the following knowledge:
● Thorough knowledge of accounting and mathematics principles and practices.
● Pertinent RUS and other relevant accounting standards and procedures.
● Pertinent LCEC policies regarding the accounting issues encompassed by the position.
● Working knowledge of the cooperative's vehicle insurance coverages.
● Principles and practices of interpersonal communication, oral as well as written.
● Pertinent state (New Mexico and Texas) transportation regulations and procedures.
● Ability to safeguard confidential information.

SKILLS AND ABILITIES:
● Ability to use all software and equipment required by the position, including a PC and all
relevant software.
● Excellent communication skills, both oral and written; ability to tactfully obtain
necessary information from all departments.
● Ability to perform extremely detailed tasks.
● Ability to balance multiple priorities and adhere to numerous regular deadlines.

WORKING CONDITIONS:
Normal office conditions. Occasional overtime will be required. Infrequent overnight travel.
Subject to callout in the event of emergency. Subject to random drug/alcohol testing.
TIME REQUIRED FOR FULL COMPETENCY:

3 years.
Lea County Electric offers a competitive salary and benefits package. To apply, simply come by or call our main office in Lovington, NM or one of our district offices in Tatum, NM or Plains, TX.
Upload your resume here

This Institution is an Equal Opportunity Provider and Employer